In the most exclusive area of ​​Tulum, between the sea and the majestic jungle, will be 101 PARK TULUM, a tribute to the essence of this region designed to connect with what is really important.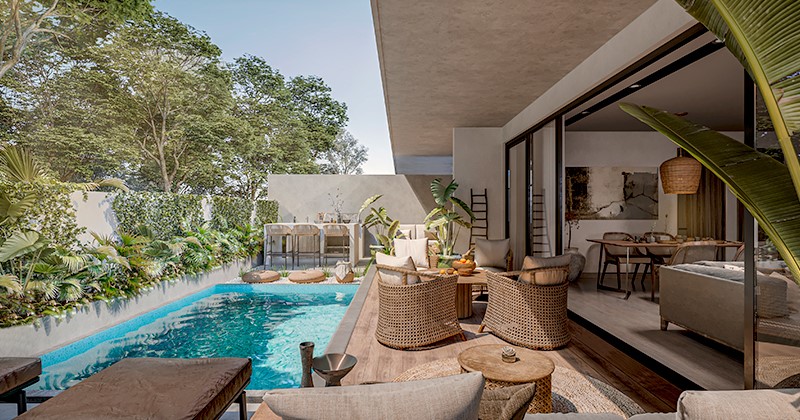 Great track record supports them
The project was born from the joint venture of two great experts with extensive experience in the creation of developments, with avant-garde and sustainable design characteristics in Tulum: Los Amigos Tulum and Inmobilia.
Los Amigos Tulum is real estate developer and operator recognized for its innovation, technology and sustainability measures. Inmobilia, a leading developer company in southern Mexico, is an expert in the creation and planning of large-scale communities. Together, they have created a high quality concept that unites luxury and nature.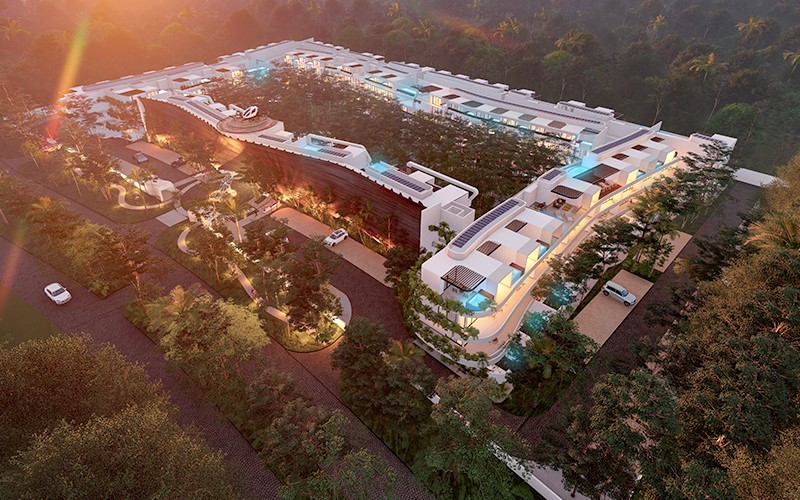 Comfort, luxury and lifestyle
101 Park Tulum was designed for those looking for a space to connect with themselves, with their loved ones and with the environment, under a scheme that is not only suitable for living or vacationing, but also for those looking to retire or simply make a smart investment. .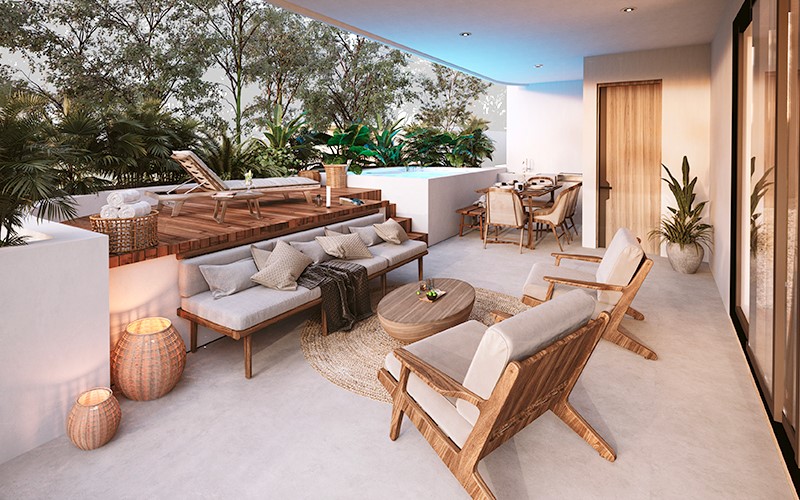 Its luxury and exclusivity are present in its one-, two- or three-bedroom apartments with views of the jungle, the great central park or with direct access to a personalized pool or a large patio to enjoy in private. They also have a variety of premium penthouse options for those looking for comfort in a natural setting.
The design takes into account aspects that satisfy the needs of a short or long stay, with functional and spacious spaces, for which all the units are delivered equipped.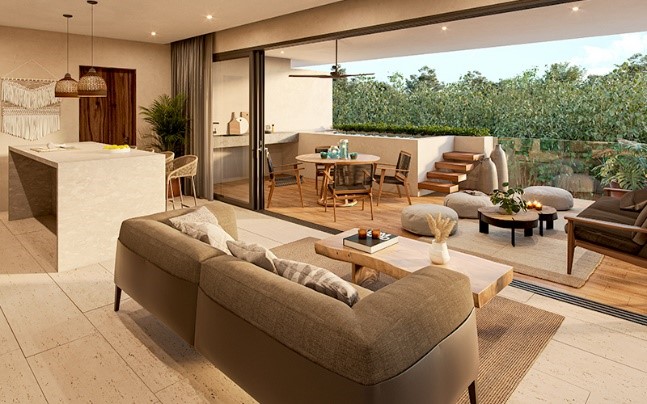 Nature and connection
The concept behind the project is based on the idea of ​​a large central park, like the one in New York, which not only serves as a recreational space, but as a "lung" that gives life and allows union and interaction with the mother earth.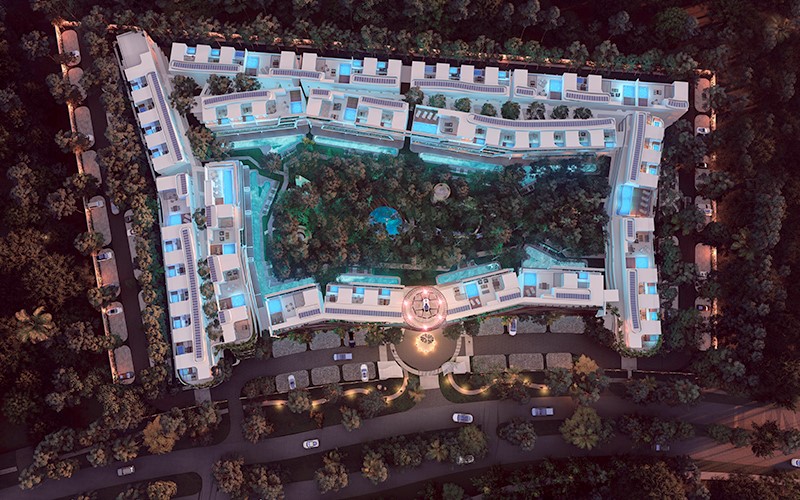 In addition, the developers wanted to capture the healthy and balanced lifestyle that characterizes Tulum and designed seven different spaces inspired by the chakras, which are energy points in the human body.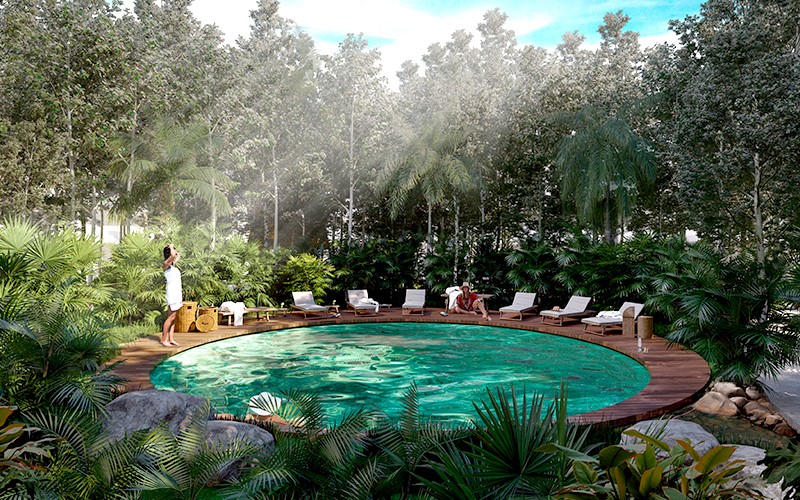 From a pool whose design was inspired from a cenote, a coworking space in the jungle, a 15-meter-high viewpoint in the middle of the vegetation, to a roofed space with an oculus to practice yoga and meditation, each one of them is created with the purpose of living a whole wellness experience.
Exclusive location
101 Park Tulum will be located in the most exclusive area of ​​the most chic destination of the moment, Tulum, 800 meters from the hotel zone, in the 101 Tulum Community.
This area guarantees services such as drainage, electricity and fiber optics, as well as a safe environment with access filters and mobility facilities inside with a running and bicycle track.
It connects with the main avenues such as Coba and Kukulkan and is close to downtown, Aldea Zama and the worldwide famous Mayan ruins.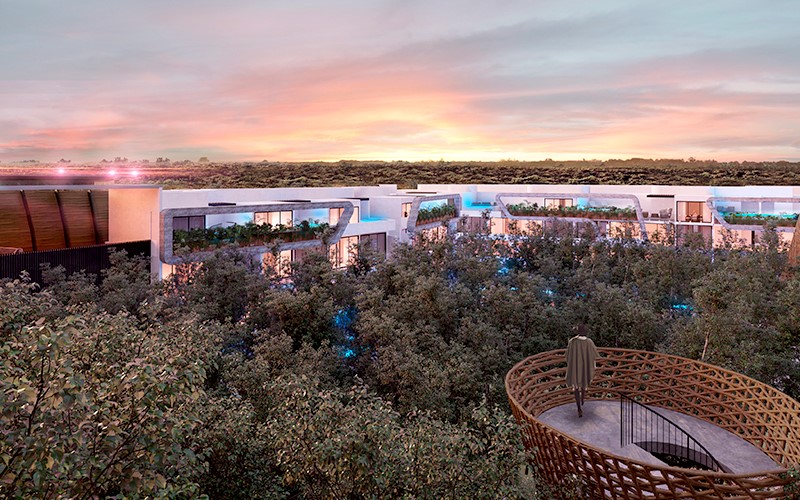 Sustainable strategies
The design has multiple measures that propose maximum use of resources. For example:
Solar panels and smart flower intelligent power generation system that works like a sunflower by following the sun and maximizing the efficiency of the panels that make it up.
Irrigation systems that take advantage of rainwater
62% of green areas that help reduce the temperature
The apartments include electrical equipment for low energy impact
Top 3: PARK 101 TULUM
Privileged location that allows the most exclusive lifestyle in Tulum
Large spaces, avant-garde design and a sustainable approach in harmony with nature
Developers with experience and track record in Tulum